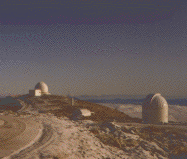 100" du Pont telescope and 24" Canadian telescope (right) at Las Campanas Observatory. Polish telescope will be located between the astrograph house (in the middle) and seeing tower.
In 1994 observing season a new feature is implemented in the OGLE data system: the Early Warning System (EWS). It allows the detection and identification of microlensing events in real time. Thus, the system makes it possible to reschedule observations to obtain the best coverage of a microlensing event while it unfolds, as well as to arrange follow-up photometric and/or spectoscopic observations from other observatories.

First ever ongoing microlensing event was caught on July 8, 1994. The EWS detected a microlens candidate in Baade's Window field BW6. The event was a low-magnification (0.3 mag) short-lasting (t0=13 days) event. First OGLE ALERT info was sent to interested astronomers for follow-up observations.

Second ongoing event was detected on August 20, 1994. The star from Baade's Window, BW5 I 83758, underwent microlensing. The time scale was about 20 days.

In 1995 season 6 more events, that is OGLE 14 - 19, have been discovered so far with the EWS system (beginning of August 1995).